My original plan for the raised bed walls was to use wood. I had some concrete block I'd used for a foundation to support an old railway goods carriage I wanted to upcycle but life got in the way. Rather than waste them, I used these blocks as a bed wall. They are about 8″ deep and with a layer of manure at the bottom of the bed, it took five wheel barrows to fill the bed.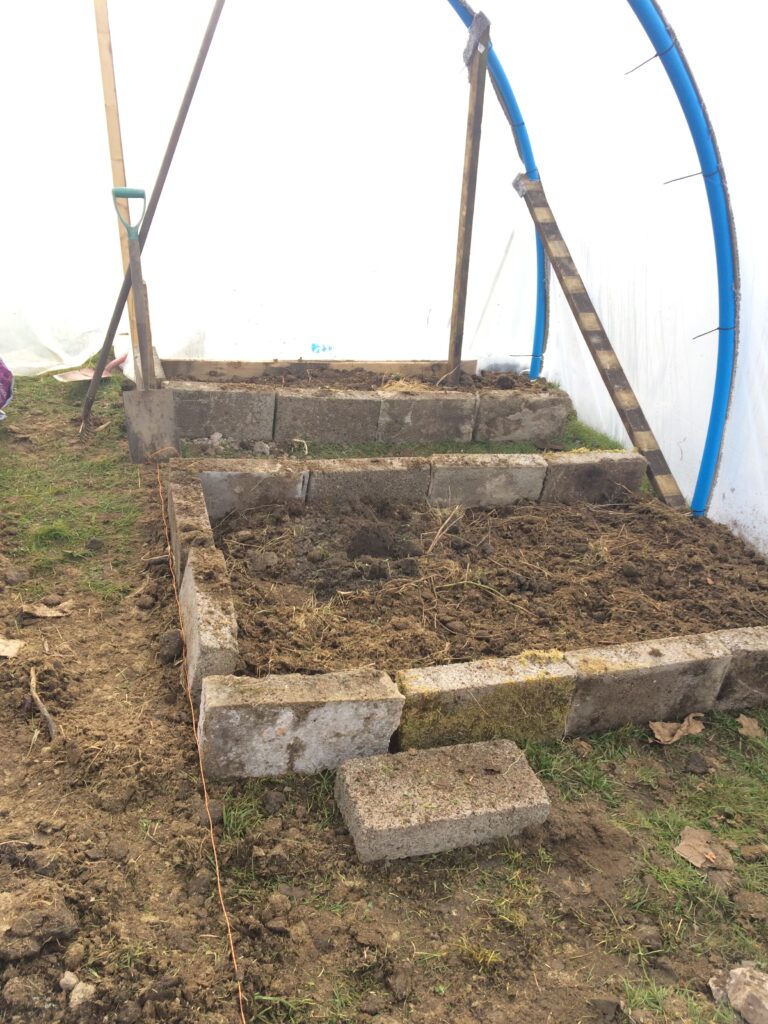 All the seedlings have been pulled out of make shift fleece bed and into the poly-tunnel. There has been some frost damage – some of the tomatoes have their tips burnt and the french beans are not looking well. One of the purple corn plants was left in the grow room by mistake and is perky and happy while it's brothers are looking limp and sad.
What did I plant? with a nod to square foot gardening:
Pak Choi and Oriental greens – they can keep each other company
Rainbow chard, I tried to keep them colour co-ordinated
Bird Eye Chilli along one edge, I have no idea how big they will grow
sprouting little red shallots sold to be eaten that I bought in chinese food shop in Peckham, London. It was an Aladdin's cave of surprises; chili sauces, soy, fish sauces, beans and peas I'd not heard of and interesting looking frozen fish that looked delicious. Fortunately I'm on a budget or I would have bought so much more. I did buy turmeric tubers, and two fish heads that I've put in a large glass jar with brown sugar to make FAA (Fish Amino Acid ala Korean natural farming)
Red Brussel sprouts and Snowball cauliflowers
Broad beans
Purple corn
Rory built a compost bin using three pallets and loaded it with horse manure. It followed a discussion where I was considering ways to keep the poly-tunnel warm. He's got a good head for ideas. Some of the manure was a little dry so I watered it and put all the heat loving plants on top of it.
Monday, Wednesday and Friday, I pick up meds for my wife. As we were out of milk I popped into the co-op and bought 2lb of sugar and 2lb of over ripe bananas. On my return home, I chopped them up (skins and all) and wizzed them with the sugar in a food processor. It filled a quart jar to the brim. In 10 days, I should have some FFJ (Fermented Fruit Juice) that I can feed the plants who like a little more potassium than just nitrogen. Nettles are ideal for nitrogen and I've eyed up a few patches that have young (and very stingy) nettles I can use in the same fashion, equal weights of brown sugar to nettles.